The 9.7-inch iPad (6th Generation) is still a great option for artists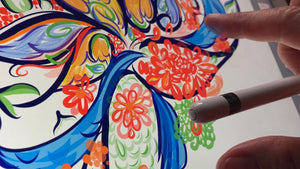 With all the talk of the new iPad Pro, you could be missing the fact that the 9.7-inch iPad (6th Generation) is still a great choice for digital illustrators everywhere. Yes, the new iPad Pro is incredible - and expensive. The 9.7-inch iPad will cost you about 60% less than the entry 11-inch iPad Pro.
With Apple Pencil support and lower cost, the 6th Generation iPad is a great tablet for sketching in Adobe Draw or Adobe Sketch. Also, the power inside this iPad by far surpasses any of its predecessors. The A10 Fusion chip offers plenty of processing power for any daily tasks and sketch requirements.
This iPad has Touch-ID and comes in both Wi-Fi and Cellular options, so it's a solid choice for any portability needs. It slips nicely into your gig bag and with a Stylus Sling attached, you will always have access to your Apple Pencil when inspiration strikes you.
You also have many choices of styluses:
Apple Pencil, Logitech Crayon, Pencil 53, Bamboo Solo, Adonit Pixel and more. The Logitech Crayon has a nice feature of pairing without the need to plug it in - much like the new Apple Pencil (Gen 2), but costs only $69.95. 
The new iPad Pro is a beautiful tablet, but costly. The iPad 6th Generation is a more affordable and can do so much of what is needed from a tablet. 
See this info comparing the Apple iPad 9.7-inch (6ht Gen) and the other iPad Pro products.