Logitech Crayon with Stylus Sling Wide: a great combination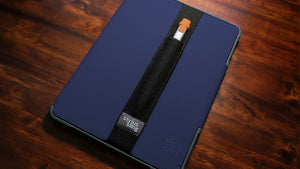 The Logitech Crayon is a stylus made for the 6th generation iPad. With its easy iPad pairing and simple charging port, the Logitech Crayon is a great option for your stylus. Since the Crayon is a wider stylus, it may have a better feel for some users. 
The Stylus Sling Wide is a great stylus holder to keep your stylus close at hand. Most stylus holders won't fit the wider styluses, but the Stylus Sling Wide works nicely. It fits onto you iPad cover and provides a handy pocket to protect your Crayon when you're out and about. It also keeps the Crayon securely attached and helps you keep the stylus easily accessible when inspiration comes to you. 
The Logitech Crayon is available on Apple.com and the Stylus Sling Wide is available from stylussling.com.