Magic Keyboard for iPad Pro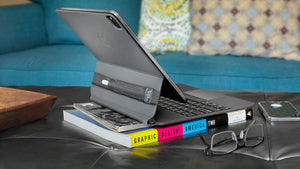 As the update to the Smart Keyboard Folio, the Magic Keyboard for iPad Pro now incorporates a built-in trackpad for better navigation and allowing a cursor for better text and selection. But how does it work and is it worth the money?
For the most part, we found the Magic Keyboard worth the money if you really want to make your iPad Pro more like a MacBook Pro. While not the same, it gets much closer to that with the added trackpad. 
We do recommend the use of the Stylus Sling to keep your Apple Pencil secure to your Magic Keyboard. This is still the best way to make sure it doesn't get lost. The Stylus Sling works great on the Magic Keyboard and easily attaches to the lower section on the cover.
 Check out this video review from Tyler Stalman (listen to the podcast)
We do find the Magic Keyboard very handy and a definite upgrade to the Smart Keyboard, but there are some negatives. 
It is heavier than the Smart Folio and makes the 12.9-inch iPad Pro weigh about the same as the 13-inch MacBook Pro.
Expensive, 12.9-inch version costs $349
Some gestures on the trackpad aren't the same as MacBook Pro
Overall, if you want more of a laptop feel from your iPad Pro, the Magic Keyboard is your answer. It doesn't come cheap, but looks and feels great. The functionality is superb and we aren't disappointed by the new Apple keyboard addition.