Apple Pencil vs. Apple Pencil 2: Which one to choose?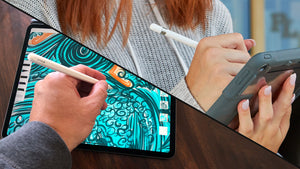 Both have their benefits, but your choice is determined by the iPad you want to use it with. 
Every current model iPad can use a version of the Apple Pencil, so you can pair an incredible stylus with your iPad, but the newest iPad may not work with the Apple Pencil Gen 2. For instance, the newest iPad 10.2-inch uses the 1st Generation Apple Pencil. Below is a list of Apple Pencil / iPad compatibility. 
First-generation Apple Pencil works with:

 

Second-generation Apple Pencil works with:
So what are the differences? There are a few in both form and function. Here is an overview:
Apple Pencil 1st Generation:
Pair with iPad using Lightning connector located under end cap of Apple Pencil
Quick-charge by plugging in to iPad lightning port. This gives a quick 30 min. charge in ~30 seconds.
Use the USB adapter and Lightning cable to fully charge the Apple Pencil
Smooth, round body is weighted to allow comfortable, solid feel in writing
Limitations/detractions:
Charging Apple Pencil Generation1 is not as convenient
Detachable end cap could get lost
USB adapter could get lost
No multi-tap functionality
Apple Pencil 2nd Generation:
Pair with iPad Pro via magnet on side of iPad Pro
Charging is done with magnet on side of iPad Pro
Double-tap functionality adds additional options to apps that support it (options like undo, etc)
Slight texture on body helps keep grip on Pencil while writing 
Limitations/detractions:
No "eraser" function by using back-end of Pencil
Magnet can easily detach Apple Pencil when knocked or bumped. Can inadvertently lose Apple Pencil
Overall, either Apple Pencil is a great choice as the stylus for your iPad or iPad Pro. The feel in writing and drawing is unmatched by other styluses. The ability to use the side of the pencil tip to do shading on drawings is great and the pressure sensitivity on both versions is superb. 
Also, we recommend the Stylus Sling as a great accessory for either generation Apple Pencil. It helps to eliminate issues dealing with a lost or detached Apple Pencil and accessory/adapters. The Stylus Sling secures your Apple Pencil and is compatible with all Smart Cover/Keyboard Folio or cases for iPad, mini, iPad Air or iPad Pro models. It fits the Apple Pencil tightly and secures it to your cover to keep it safely in place –  safe from getting accidentally detached and lost.
The Stylus Sling for Apple Pencil keeps your stylus in reach at all times without the chance of snagging the Apple Pencil on your jacket pocket or handbag. It also provides a USB adapter pocket for the 1st Generation Apple Pencil, so you won't have to search for this little adapter again.
Learn more about Apple Pencil on the official support page here.