Adobe gives a name change to Project Gemini – Adobe Fresco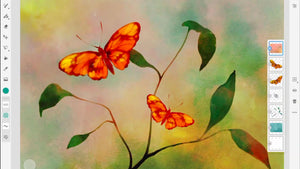 [Image: Adobe]
At Adobe Max 2018, Adobe showed its latest software and previews of some amazing-looking apps to help all creatives work anywhere with any device.
The announcement of Adobe Gemini, an illustration/painting app dedicated to recreating live paint on the iPad Pro was a very compelling preview. Now, they are giving that project a name, Adobe Fresco – due later this year.
Adobe is showing progress with their newest drawing and painting app, Project Gemini. It has now moved from the "project" stage to the full app. Their new app will be Adobe Fresco - a complete drawing and painting app for iPad and iPad Pro. They will add more devices after the initial launch (later this year).

Adobe Fresco is a sophisticated drawing and painting application that allows users to create with more realistic intent than ever before on a tablet. It creates a more natural feel of blending and painting color - more organic and not digital. The ability to mix "paints" directly on your artwork recreates the magic of using real paint, ridges and brush stokes give dimension to your digital artwork. This, along with multiple layers, masking and selections, you can work on your artwork as you have done in other Adobe application.
 
Realistic Drawing and Painting - powered by Adobe
From oil paints, sketching and watercolors, they show how the blends, mixing and combining of different mediums react within your artwork. Watercolors bloom into adjacent color areas - even the ability to paint with water to dilute areas. Quite interesting!


Adobe has studied all different types of paint and the reaction of different substrates with those paints to "learn" how best to display and interact while your creating. Adobe Sensei is their AI behind all of the magic.
[Image: Adobe]
Because this is Adobe, it will interact with other Adobe application, such as Photoshop, Illustrator and Adobe Capture to create your live brushes! This opens up the possibilities and experimentation to create incredible artwork!
You can read their full release here: Adobe Fresco

Adobe is adding some users for pre-release testing, so sign up and hopefully you will get a chance to work with this amazing new application. Sign up here.